Sausalito Floating Homes Tour-2010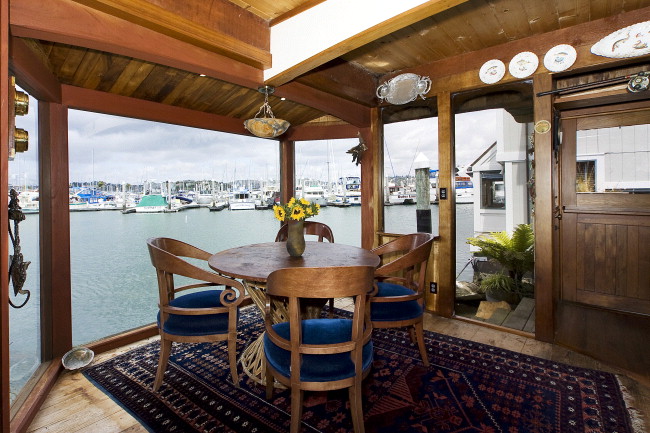 Once a year an unusual event occurs in Marin real estate. It's the annual Sausalito Floating Homes Tour, and it's this Saturday September 25, 2010, from 11:00 a.m. until 4:00 p.m. Featuring 19 floating homes out of approximately 425 in the area, it's a self-guided tour. Although, there will also be a few docents on hand to answer questions and provide a little history.
The tour begins at Gateway shopping center in Marin City. Take Bridgeway to Gate 6 Road. You can park in the lot and take the free shuttle service to the Marina Green at Kappas Marina. There will be an art show, free entertainment, and food and drinks available for purchase. You can purchase tickets online at www.floatinghomes.org in advance for $35 or $40 at the gate. For more information call 415-332-1916.
If you are planning to be in the area, I will be holding a free open house at Pat Kuleto's floating home, called Lilypad, from 1:00 p.m. to 4:00 p.m. This custom, 3 bedroom / 2 bath home is in a great location with stunning views of Mt. Tamalpais, Angel Island, San Francisco Bay and the Sausalito harbor. It features koa wood wainscoting and cabinets, custom metal work, fixtures and other Kuleto touches. This one-of-a-kind floating home is listed at $495,000. Directions: 101, Bridgeway, L Harbor Dr., R Road 3.
Jonathan B. Jacobs is a realtor who works with luxury home buyers and sellers, as well as first-time home buyers and sellers. For advice on buying or selling your home in Marin, a free market analysis complete with comps, or to go see any of the listings found on this website, contact Jonathan B. Jacobs.